What is an Early Access Program (EAP)?
Early access programs (EAPs) provide an alternative regulatory pathway for existing therapies and new medicines to more efficiently meet patient needs. Prior to market approval, promising new drugs can be made available outside of the clinical trial space to individuals with life threatening or chronic, debilitating diseases. Likewise, an existing medicine which has shown potential to treat a currently off-label use can be made available more quickly to treat these life-threatening or chronic diseases.
While usually implemented by pharmaceutical companies based on patient therapeutic need, in France in late 2015, an EAP was also used by the social system as a means to control exorbitant drug costs –  high premiums for two approved medicines for Age Related Macular Degeneration led to a Temporary Authorization for Use (ATU) of the significantly cheaper Avastin, which, off label, had shown efficacy in this therapeutic area.
Some EAP quick facts
EAPs are widely available in established and emerging life sciences markets
EAPs are typically managed on a national level
Legal and regulatory conventions for use of EAPs vary greatly across markets
Program-naming conventions vary across markets as well (e.g., Compassionate Use, Expanded Access, Temporary Use – see Table 1)
Early Access Programs differ from other alternative approval paths in that they are limited in time and scope and are not intended to influence the traditional drug approval process. In fact, the collection of clinical safety and efficacy data related to an EAP is often not recommended, due to potential influence on the standard clinical trial pathway and its more controlled environment and data collection processes.
                      Variable nomenclatures / program-naming conventions across markets – Table 1
Variable regulatory pathways across the globe
EAPs are typically managed on a national level. The associated, regional regulatory authority evaluates the market's unmet need and potential risks involved in using the submitted treatment prior to traditional approval. For example, in the European Union, member states guided by the European Medicines Agency (EMA) will coordinate with the Committee for Medicinal Products for Human Use (CHMP) on the use of unauthorized treatments via EAPs.
Not all countries support the EAP framework. Although this alternative regulatory path was pioneered in the EU (France), currently, 20 EU countries use this program. EU countries that do not participate include Cyprus, Estonia, Greece, Ireland, Lithuania, Luxembourg, Poland and Slovakia.
Some factors to consider when implementing an Early Access Program
Within any market, a successful EAP relies on careful planning and knowledge of that market's regulatory and competitive environments – this includes a deep understanding of market access and reimbursement pathways and organizational readiness aligned to EAP challenges (see Table 2).
Market Opportunity Assessment
The first step to an EAP involves not only defining a clear outline of the objectives of the use of the program, but also determining which key markets have the most specialized KOLs (Key Opinion Leaders) and potential patient recruitment populations. Acquiring a deep understanding of each market's unmet need, the regulatory environment and the competitive landscape, are all critical. Furthermore, it is important to keep in mind that the EAP may depend on parallel approvals, such as in the case of medical devices, which would depend on two entirely different approval processes.
With each market's regulatory nuances comes variability in clinical data regulation. Generally, contrasting with a traditional launch, endpoints are not clearly defined, and data is not collected and analyzed. Clinical safety data may be collected with patient consent in some markets, such as in the case of Spain and Belgium.
Internal / Organizational Readiness and Market Launch
Launching a product through the use of an EAP requires careful planning and scheduling as well as an appreciation of the market's reimbursement pathways, potential alternative funding schemes, and future pricing implications.
While internal logistical planning between various departments is crucial to a successful EAP, external coordination of scheduling is equally as important. Governmental bodies charged with evaluating potential EAPs may run into administrative roadblocks, which may extend original timetables. This is particularly the case in newly formed programs.
In August 2014, Keytruda® was the first drug to go through the UK's EAP program (EAMS). The preliminary scientific opinion came back to Merck by mid-December of that year, delaying the process due to holidays. The procedure was then extended to 90 days rather than 45 days, which consequently led to Keytruda being made available to patients via EAPs only 6 months prior to full launch in October 2015.
Knowledge of available funding and reimbursement pathways is one of the driving factors behind an EAP's success. Certain countries, such as Germany and the UK, require that programs are free-of-charge to patients, while others, such as France, Italy and Spain, are more flexible in pricing and reimbursement negotiations. If financial support collapses, other funding alternatives will need to be sought out.
Future impact on post-approval pricing is also a crucial element to keep in mind. The price set during an EAP may impact the final price of the product during its normal launch. The French market, for example, is particularly sensitive to cost control.
                       Factors to consider when implementing an Early Access Program – Table 2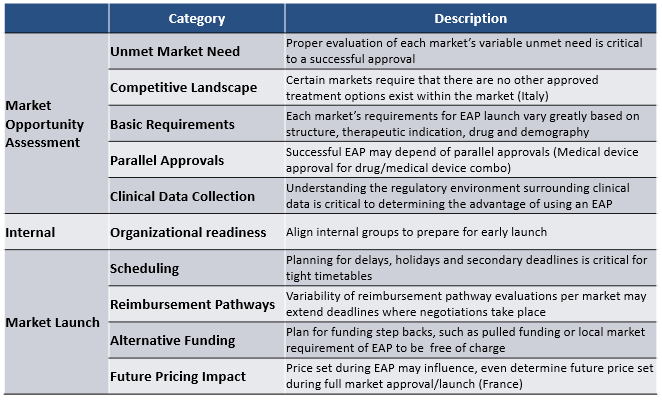 Current outlook: EAP benefits and challenges
Across the six global markets (U.S. and EU5), there is an increasing trend of providing patients early access to unlicensed treatments. These programs can provide a wealth of benefits to the patient (life-saving and improving quality of life) and to manufacturers and governmental bodies (full market launch projections and cost control). However, the utilization of these programs is not without challenges as they pose safety and efficacy risks to patients, can be clinically and financially burdensome to manufacturers, and are associated with significant administrative overhaul for authorities.
                      EAP benefits and challenges – Table 3 
In a future blog, we will begin to look at some key examples of the successes and pitfalls of specific EAP programs and the recent expansion of these programs into secondary healthcare markets.
To learn more about the benefits and challenges of EAP implementation, contact Antoine Longuet.