In a number of our previous blogs we discussed R&D data obstacles, looked at industry problems, and presented a use case for vendor management where data governance and consolidation can improve efficiency and decision making. Now we'll continue this story with real world experience and advice.
Remind me, what're we talking about?
The standard clinical procurement process has a serious efficiency (read: data) problem. Current vendor selection practices for clinical trial conduct is repetitive, largely relies on spreadsheets (ugh!), generates the same data repeatedly, and does so in individual silos. Data doesn't have a chance to be reused, let alone applied to inform the selection and price verification process. Siloed information provides no opportunity to reduce cost/time or improve decisions. Each iteration of a selection is opportunity lost and data about vendors, bids and prices, locations, rates, etc. can't be leveraged. Consider 20–30 outsourced studies per year, and this is a huge volume of knowledge untapped.
I get the picture. And you have a solution?
Yes, we have a solution. But admittedly, the steps to progress can seem overwhelmingly daunting. Here's a summary of what our solution looked like:
What are these "overwhelming steps" you speak of?
Coordinate across all involved parties: You need buy-in from all your stakeholders.

Internal departments/functional areas
CROs and other partners

Get the requirements right: Each of your stakeholders will have their own needs, wants, and wishes. Each will have their own view of what's important and what's mandatory. All these intersecting parts need to align.

Business processes need to be adapted (probably heavily)
Expectations need to be set

Customize and develop a technology solution

No out-of-box technology solution like this exists
Platforms like Salesforce, though, are perfect to build this solution on

Test and implement
Four steps doesn't seem horrible. Why is this list "daunting" and why is the industry so hesitant to implement this kind of vendor management solution?
The process above probably sounds like a typical project plan for any technology project you want to roll out. And in it's simple form (as above), it is. But there's certain circumstances around vendor management specifically that fosters hesitation from the Life Science industry. And those circumstances come down to four areas: People, Process, Technology, Data.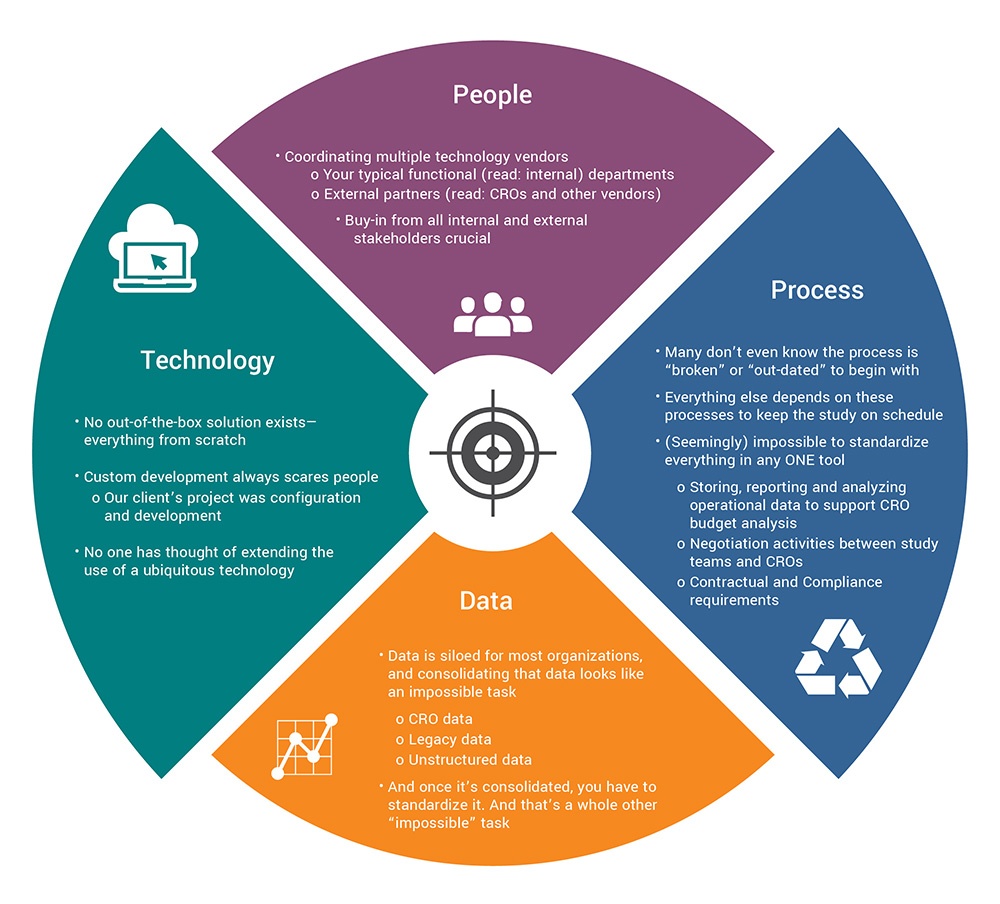 For a vendor management solution like we're proposing, just getting all the necessary stakeholders on the same page could feel overwhelming. Honestly, many in the industry probably haven't even considered the idea of a technological solution like this because they haven't even considered the idea of collaborating at this level with so many stakeholders. And for any real trends or insights, you eventually need to consolidate and standardize the historical data. Just doing the "here and now" projects will give you limited insights.
With so many organizations (both internal and external) involved, a simple look at the to-do list could cause anyone anxiety. But HighPoint recently took on this challenge with our client, and with a can-do attitude and some great prioritization, we were able to successfully deploy the solution and our client is on the path to realize the benefits, and enhance the solution for additional value.
The seemingly complicated to-do list is often a reason used to avoid this kind of project in the first place, and is likely why our industry has been hesitant to make any drastic change. But progress is essential to the industry's growth, efficiency, and profit. So to reduce the impossible to the possible, we follow these simple words of advice: "When eating an elephant, take one bite at a time."
Combining the efforts of the client, their external clinical partners, software vendors, our development and process experts, and our implementation leads, we took the crucial first steps.
So where did you start?
Standardize the data.
We made sure all the data that will be accepted into the solution has the same meaning and interpretation, regardless of the source. We eradicated excel spreadsheet variations. This task required multiple external sources' participation and contribution.
Give me the highlights:
Create a framework for how info will be collected
Ensure all CROs and partner vendors deliver information consistently
Map legacy data to newly determined template
Understand the platform.
We ensured the technology supports the data standards, the collaboration and workflow requirements of the process. Having technologists engaged in initial discussions and throughout the project help exploit the capabilities of the tool.
Give me the highlights:
Engage experts who know Salesforce inside and out
Understand the BUSINESS to transfer the tech understanding into true business needs
Business experts and technology experts (and those who are both) are your best bet. Expectations are measured and met as the experts speak the same language.
Iterations
Often clients can get bogged down in requirements sessions, agree and approval discussions, and miss opportunities to work in phased releases. Scaling the project to be iterative and provide completion of subsets of requirements enables quick wins and a higher level of stakeholder engagement. This also helped adoption post go-live.
Give me the highlights:
Like building a house, build the foundation first
Test that foundation for any and all cracks
Move on to the next section
Segment your project so each iteration builds upon the next and you're constantly making forward progress.
And what's next?
Metrics.
But we'll cover metrics in a future post. For now, though, this approach, provided our client with an on-time delivery of a game-changing solution. The reporting capabilities are providing insights into vendors and pricing never before understood, and the client is planning enhancements and integrations to enable more far-reaching insights.
What this real-world case demonstrates is not that we did a successful project or that our client was unique, but the possibilities that can be achieved when looking at data and thinking about how it can be reused and made to help you.
If you'd like to speak with one of our experts on HighPoint's vendor management solution, please reach out to Lior Keet, VP Life Sciences R&D at lior.keet@highpointsolutions.com or contact marketing@highpointsolutions.com.
For additional information, check out our COST case study: A Fact Based Approach. Selecting the best Clinical Trial Partners based on the Data.
---
Co-Authored by Lior Keet, VP Life Sciences and R&D
With more than 15 years of experience, 10 years of which serving the Life Sciences Industry, Lior continues to focus helping clients within the Top 50 Pharmaceutical, Biotechnology and Medical Device organizations. Prior to that, Lior served with distinction as an Officer in the United States Navy. Lior joined HighPoint Solutions from Accenture where he held various assignments with increased responsibility. Lior earned a Master of Business Administration from Columbia University School of Business and a Bachelor of Arts in Economics from The Ohio State University.