In an ideal world, global market access functions would be totally aware of all prices – from list to net – in all countries. The ability to access net prices for any transaction in real time would ensure zero revenue leakage along the pricing waterfall. Sadly, for life sciences companies, this ideal doesn't materialize in the real world. Very few life sciences companies enable their global team to know across all channels what the price waterfall looks like.
Focusing on the European market, the thoughts below provide a framework for tackling the challenges of "price invisibility", which fall within two categories:
Procedures-originated challenges
Channel-originated challenges
Procedures-originated challenges
In the European Union, procedures can be either a private contract (if not performed with a public entity) or a public procedure governed by the European Public Procurement Directive. Private contract pricing can be simpler to follow and identify, whereas public procedures introduce challenges.
With the increasing importance of tendering, it's becoming more and more common to have multiple procedures applicable to the same contracts. For instance, a framework agreement could set the upper boundaries which are then linked to multiple tenders which are responses below this price cap. This type of contract variation, not unlike a nesting set of "Russian dolls", can make pricing harder to accurately track. At the first conclusion under the contract, the type of procedure needs to be known to ensure it is a true net price and not just the upper boundary of upcoming tenders. Whereas price can be taken "as-is" under a simple contract, under such a dynamic purchasing system, this price may have only been a "ticket to entry".
Channel-originated challenges
The second area of challenge to pricing visibility is due to the variety of pricing channels that exist.
Typically, healthcare goods and services could be acquired through:
Direct purchase from the manufacturer
Buying groups
Agents
Distributors or wholesalers
Hospitals and pharmacies
Each channel represents its own price waterfall. This differentiation is usually well understood at the local level but tends to get lost in the process of reaching the global team. This customer segmentation information needs to move from the sales team to the global pricing team, as it is key to understanding pricing. Business Intelligence solutions and tools need to be aligned with overall data flow to ensure the waterfall is supplied to everyone.
For an example of this challenge, if goods and services are acquired through a buying group, tracking the price for an individual customer becomes more complex to identify. France, for instance, allows hospitals to participate in multiple buying groups at the same time. Sending the right price to the customer is already a challenge at the local level, and making global teams aware is even harder. Along the same lines, agents with incentive schemes that may not be linked to volume but simply to speed of response are further blurring the visibility of price by adding additional cost to sales, which can be unclear if all details are not provided.
Strategy for achieving pricing visibility
At HighPoint, we typically address the visibility problem by looking at the situation from the lens of all stakeholders involved, the data, the processes and the technology. This methodology ensures that visibility challenges are addressed from all angles by looking at both procedures-originated and channel-originated challenges with all dimensions in mind.
This methodology can be summed up in the following high-level, 2×4 matrix, to facilitate the socialization of the pricing visibility challenges: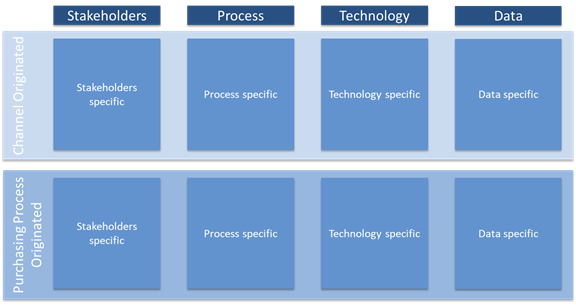 The first step would be to look at pricing visibility from an organization perspective. Some key questions to ask, include:
What are the issues arising for both categories of challenges?
Are roles clearly defined within the organization for its complex purchasing structure? (Typically, not.)
Is the current process enabling agents participating in a tender to ensure that net price is immediately communicated in place? (Some countries may do so, but not all.)
Is the data for a dynamic purchasing system transmitted to the global level or simply residing at the local level?
Is the technology that's in place supporting the business well enough?
HighPoint framework for price visibility
Once the issues are identified and classified, the path to address them becomes much clearer. Typically, a data strategy can be implemented to address the challenges. Data could be sourced from multiple origination points and directed to where it's needed, not only from local to global. Some examples of data sources at various levels include tendering prices that are published in certain countries, sales data that are acquired externally, and related data that also reside internally.
Addressing the matrix elements one by one in a holistic manner ensures improvement of the entire landscape. Your price invisibility will not disappear overnight, but some clarity will begin to arise at each step.
To learn more about the challenges of pricing invisibility and strategies to address it, please contact Ruven Eul.
{{cta('b57a08e3-8e04-44b2-b8ca-2fc87d690df0′,'justifycenter')}}