Organizations across industries have made significant investments in their CRM strategy, implementation and on-going maintenance.  While each industry brings its own uniqueness with how they chose to interact and engage their customers, we have seen a common theme among nearly every large-scale CRM initiative.  It is a common pitfall most organizations do not plan for; or chose to "de-prioritize" while standing up a CRM program.  Some may refer to it as Organizational Change Management (OCM) or User Adoption.
Healthcare organizations are leveraging CRM to increase market share by increasing patient loyalty, providing access options and offering engaging messaging and personalized service to the patients they serve.  The problem is, most organizations do not plan how to best manage those who interact with CRM, through the changes that come along with it.
While increasing market share is typically where CRM Goals & Objectives start, there are many other benefits that inherently come with a best-in-class CRM strategy and platform.  Perhaps at the top of the list is potential operating cost reduction by removing duplicative or manual efforts which will now be streamlined with CRM.  While this sounds like a measurable goal and will factor in to determining how successful a CRM program is, there can be widespread impacts to an organizations most valuable assets—its people and the patients they serve.  This is what we refer to as the "Growing Pains" of Next Generation CRM.
While similarities exist across industries, Healthcare in particular brings with it many unique challenges in that the reach of the CRM platform extends far beyond the internal user community.  With the rapid increase in patient demand for access to their Electronic Medical Records (EMR), expansion and advancement in wearable monitoring devices and interconnectivity across Healthcare Providers, the need for comprehensive OCM is becoming more prevalent than ever.
CRM solutions are only as effective as the information that is available.  The ability to increase patient loyalty, provide access options and offer engaging and personalized service to patients hinders on having up-to-date and quality information such as contact, preference, usage and interaction data.  Unfortunately, obtaining and maintaining this information can be a challenge in that it comes from one primary source—people!  Organizations must communicate and continually reinforce to users the importance of providing accurate information through the lens of, "What's in it for Me?"  Let's take a look…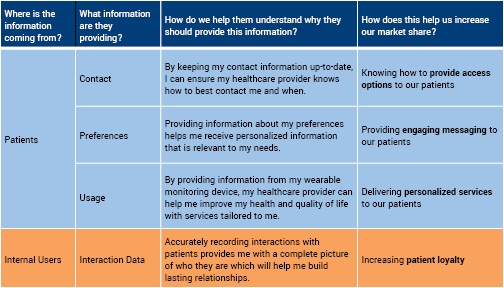 The solution to managing the "Growing Pains" during a CRM implementation, is to ensure a comprehensive Change Management and User Adoption strategy is defined, managed and executed throughout the lifecycle of the program.  Through effective communication, marketing, training and ensuring users know where to turn to for support, healthcare organizations can increase the probability of achieving the end goal of increasing market share.