Co-authored by Aubrey Elmore, Senior Consultant PCMA
By the year 2025, the government-sponsored share of health spending is projected to increase and account for 47% of national health care expenditures, indicating a majority of Americans will receive pharmaceutical benefits through a publically funded program, such as Medicaid, Medicare, The Veterans Health Administration (VA) or Public Health Services (PHS). In August 2016, the Centers for Medicare and Medicaid Services (CMS), indicated a total of 73.1 million Americans had enrolled in health care coverage through state Medicaid programs or related Children's Health Insurance Programs (CHIP).
The expanding role of government payers and providers within the health care system has largely been influenced by coverage expansions under the Affordable Care Act (ACA). As the government-sponsored share of health spending continues to grow, legislation designed to manage drug costs (e.g., Medicaid Program; Covered Outpatient Drugs; Final Rule 81 FR 5170) and sustain the Medicaid Drug Rebate Program (MDRP), may give rise not only to an increasing market segment for pharmaceutical manufacturers, but to compliance risks associated with satisfying regulatory requirements (e.g., government pricing).
All manufacturers should leverage auditable procedures and effectively designed controls when performing operating activities impacted by legislation, whether those activities are performed in-house or outsourced to a managed services provider. Exposure to compliance and reputational risks – both to the organization and individual, are magnified when taking an unstructured and uncontrolled approach to operating activities. In this summary of regulatory operations best practice, we are introducing key documentation areas a manufacturer should consider to help reduce future compliance risk in government pricing. In subsequent blog postings, we will take a deeper dive into each of the identified areas below:
Process / Workflow
Change Process Management
Class of Trade Schema
Data Reconciliation
Data and Calculation Retention
Segregation of Duties
Process / Workflow Documentation
Failure to document organizational processes and controls when operating in a regulatory landscape rife with change may result in a manufacturer's inability to meet compliance requirements, eliciting enforcement actions from the Office of Inspector General (OIG). To that end, procedures to prepare a government pricing calculation (e.g., Average Manufacturer Price) should be documented to detail the systems used, methodologies employed and individuals responsible for performing delegated tasks and actions. Several components exist within the government pricing workflow. In determining the extent of documentation, we have identified six significant components that a pharmaceutical manufacturer should consider.
Organizational structure: documentation should specify job descriptions that clearly detail the tasks and responsibilities of each individual identified to be relevant to the government pricing calculation workflow. Documentation should also detail the systems used along with the sources of data for those systems.
Policies and procedures: documentation should include detailed process workflows inclusive of regulatory guidance and procedures unique to a manufacturer's business model. The documentation should include specific government pricing methodologies for each price type (e.g., Average Manufacturer Price) inclusive of eligibility filters.
Authorization and approvals: documentation should address the individuals designated to authorize or approve certain steps within the government pricing calculation workflow, or commercial processes which have a direct downstream impact to government pricing. A manufacturer may consider including authorization and approval documentation within a policies and procedures document.
Support: documentation should include any additional items that supplement the documented workflow.
Reporting: documentation should include individuals responsible for preparing reports and whether the information included in the documentation is proprietary and should be limited to a defined user group.
Reconciliation: documentation should address the procedures for reconciling data used in government pricing calculations to source systems.
Significant components of the government pricing workflow should be documented, reviewed, and approved before the initial calculation period of a product's life cycle. Documentation should be updated whenever changes to any one of the workflow components materializes.
Change Management
In addition to maintaining relevant workflow documentation, foreseeable changes to workflow components whether impacted by commercial strategy or legislation should be formally defined. Change management process documentation should include an overview of the processes undertaken to confirm that each change introduced to a project environment is identified, evaluated, and approved prior to implementation. If a change involves new actions, objectives, and processes for a team or a group of people, a constructive workshop designed to focus on the team's key priorities as they relate to business objectives is a proven method to successful change management. Irrespective of the magnitude the foreseeable change may have on the project environment, we have vetted some important aspects manufacturers should consider when formalizing change management documentation.
In terms of capturing desired changes to a specific domain (e.g. Class of Trade schema), begin by identifying the various processes impacted by the change. Reference the current workflow documentation and segment all tasks and sub-tasks that may need to be superseded or updated as a result of the change. Next, understand and clarify expectations the change may have on the organizational context of the project environment. An analysis may be helpful and more pragmatic to assist decision-makers on whether or not the change is essential or non-essential. Next, make an assessment as to the complexity of the change and whether or not dedicated resources should be engaged to begin implementation. Finally, begin revising workflow documentation in parallel with the changes being made to the project environment. Be sure to keep established communication methods open to enable immediate review of implemented actions to confirm they align with desired expectations.
Defining a Class of Trade Schema
A Class of Trade (COT) assigned to each customer is paramount in determining which transactions are included in government pricing calculations. A COT is used to define the various channels (e.g., hospitals, physicians, retail pharmacies, clinics, mail-order etc.) by which a pharmaceutical manufacturer's products are distributed within the marketplace. A method to assign and reassign a COT for new and existing customers should be documented. Unfortunately, the process to assign COT is not always clearly defined. However, incorrectly assigning a customer COT can result in an incorrect pricing submission. For example, if a Commercial customer is incorrectly assigned a Government COT, the associated transactions will be bucketed incorrectly in your calculations.
When preparing COT documentation, we believe a manufacturer should consider a three-pronged approach.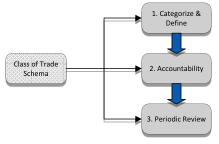 Categorize and define: documentation should identify the COT schema currently being used by contracting groups. Each COT included in the active schema should be categorized and defined. For instance, "HOS" is categorized "hospital" and defined as "assign HOS when product is utilized in an in-patient setting regardless if hospital is an eligible 340B entity or a disproportionate share hospital". COT categories and definitions should be clear and shy away from ambiguity; however, they should not be so discrete as to increase the risk of error in assigning appropriate business classifications to customers.
Accountability: documentation should address the individual or team of individuals responsible for making and approving COT assignments within the project environment.
Periodic review: documentation should address the periodic review of not only the COT schema classifications and definitions, but also the population of customers with existing COT assignments.
Data Reconciliation
All data sources including manual files, databases, or live feeds, used to prepare the government pricing calculations should be reconciled to the general ledger to assert to the completeness and accuracy of the data. A government pricing calculation should not be performed prior to successfully tying the period's complete data set to the general ledger postings. If pricing calculations are audited, the reconciliation process documentation together with the audit period's reconciliation will establish evidence of the underlying process control. The data reconciliation process may be defined within an overall process and workflow document or can be a separate document altogether.
Data and Calculation Retention
Since the government (e.g., CMS, VA, PHS) reserves the right to scrutinize any prior pricing calculations, it is essential that the submitted pricing calculations and underlying data are retained as it is. Whether using a system, application, or manually calculating pricing, it is imperative that all results and data used to create those results are stored as at the time of submission and cannot be edited. Your process documentation should define how this data is to be "locked down" whether through system means or use of password protection of files with enhanced access controls. Replication and review of all calculation materials is integral during audits performed by the OIG if there is any suspicion of wrong-doing.
Segregation of Duties (SOD)
In general, the flow of transaction processing and related government pricing calculations should be designed such that critical functions are dispersed to more than one person or department. Segregation of duties (SOD) serves to reduce the risk of undetected error and fraud; however, without adequate documentation, proper SOD may be complicated for some manufacturers that utilize multiple enterprise applications. Knowingly, manufacturers should formalize roles and responsibilities within software applications and maintain SOD documentation (e.g., SOD mapping) for all critical functions within a process workflow.
Also, since government pricing calculations are time sensitive and performed on a monthly basis, adherence to a defined SOD mapping may be difficult. When business priorities outweigh performance risk, a manufacturer should clearly document all reviews and approvals performed outside the scope of defined procedures. For example, commentary templates may help a manufacturer document unusual or infrequent transactions that create a variance in Average Manufacturing Price (AMP) or explain why Best Price was greater than AMP.
In conclusion, in the near future, as more Americans receive pharmaceutical benefits through publically funded programs, it is critical for manufacturers, specifically Pricing and Contracting operational groups, to fully understand the underlying compliance risks when marketing products through government channels. We have only scratched the surface with each section in this article, but manufacturers can review their processes and related documentation against these recommendations as a first step towards establishing and maintaining government compliance. The goal here is to assess where you are currently and if lacking in any of these areas be more intentional in creating a more controlled and deliberate approach to manage operational activities and mitigate compliance risk.
Special thanks to co-author Aubrey Elmore, Senior Consultant PCMA