Getting customers off to a strong start with new technologies is integral to their business and key to their delivery of a superior employee experience. To do this, HighPoint has developed a deployment methodology that allows for rapid ramp up and easy configuration of the Workday application. Its five stages of planning, architect, prototype and configure, test, and deploy are iterative and allow the customer to refine, define, and fine-tune the application.
Here are a few tips on how to best initiate a strong Workday deployment.
Foundation
Creating a positive first impression for users begins with correctly defining Workday's core data structures. During the architect phase, customers decide how to organizationally structure the Workday application. These core data structures reflect how the business is organized. Data sets like organizations, job profiles, locations, and compensation plans define the application and set the foundation for creating the employee experience.
Take, for example, creating a supervisory organization in Workday. In Workday Human Capital Management (HCM), a supervisory organization groups employees into a management hierarchy. Down the road, the hierarchical structure determines the flow of business processes, security, and reports.
Using a well-defined and designed naming convention for organizational values will positively impact the employee experience. Here are some suggested guidelines when creating a well-designed supervisory organization.
Use descriptive names that describe the function of the supervisory organization.
The supervisory organization name should describe to the employee what role the organization performs in the company.
Names should be unique so they are not confused with other supervisory organizations.
Supervisory organizations with similar functions can be divided into geographical regions or functional roles.
Avoid using acronyms.
Do not use manager names or titles to define the organization name.
Employees should not report to themselves.
For a good first impression, the supervisory organization should accurately reflect the employees who work in the company, as well as their location, title, and function. Its design positively impacts the employee experience when it accurately depicts how the organization is structured

An example of a supervisory organization in Workday.
Strong Naming Convention Examples
| | |
| --- | --- |
| Supervisory Organization Name | Functional Description |
| Total Rewards | Manages the total rewards program, including benefits and compensation |
| Benefits Administration | Manages benefits for the company; excludes compensation |
| Accounts Payable | Responsible for paying supplier accounts |
| Information Technology | The parent organization of all things information technology; help desk reports to this organization |
Weak Naming Convention Examples
| | |
| --- | --- |
| Supervisory Organization Name | Functional Description |
| Dir, Software Application | Position acronym and title do not comprehensively describe the function. |
| Clooney, Michael | Using a manager's name offers little in terms of what the manager actually manages |
Configuration
Workday delivers out-of-the-box functionality that is configurable to meet customer requirements. Pre-defined functions are built into Workday and are modified and optimized to enhance the employee experience. When selecting configuration, customers should follow the principle of least privilege concept. This suggests that users only provide employees with the information that is exclusively needed for the job.
Additionally, customers should control the number of menu items an employee sees. Workday tenants come pre-configured with menu options. This is frequently called a related action. It is the list of actions that can be performed and allows the employee to "take action," meaning perform a task.
An example of related actions in Workday.
Customers can configure and refine these actions, thereby, controlling what employees can see and do. Customers can make configuration changes to:
Role-based security
Business process security
Worker profile screen
Email notifications
Dashboards, with actionable reports and analytics
Mobile application
Customers can also configure Workday's homepage to make a positive first impression. It allows customers to choose from a list of pre-configured icons, or customers have the option to create their own. When designing a homepage, customers should carefully think through icon placement. The homepage can be designed to meet the needs of different types of employees, from the C-suite to the staff employee.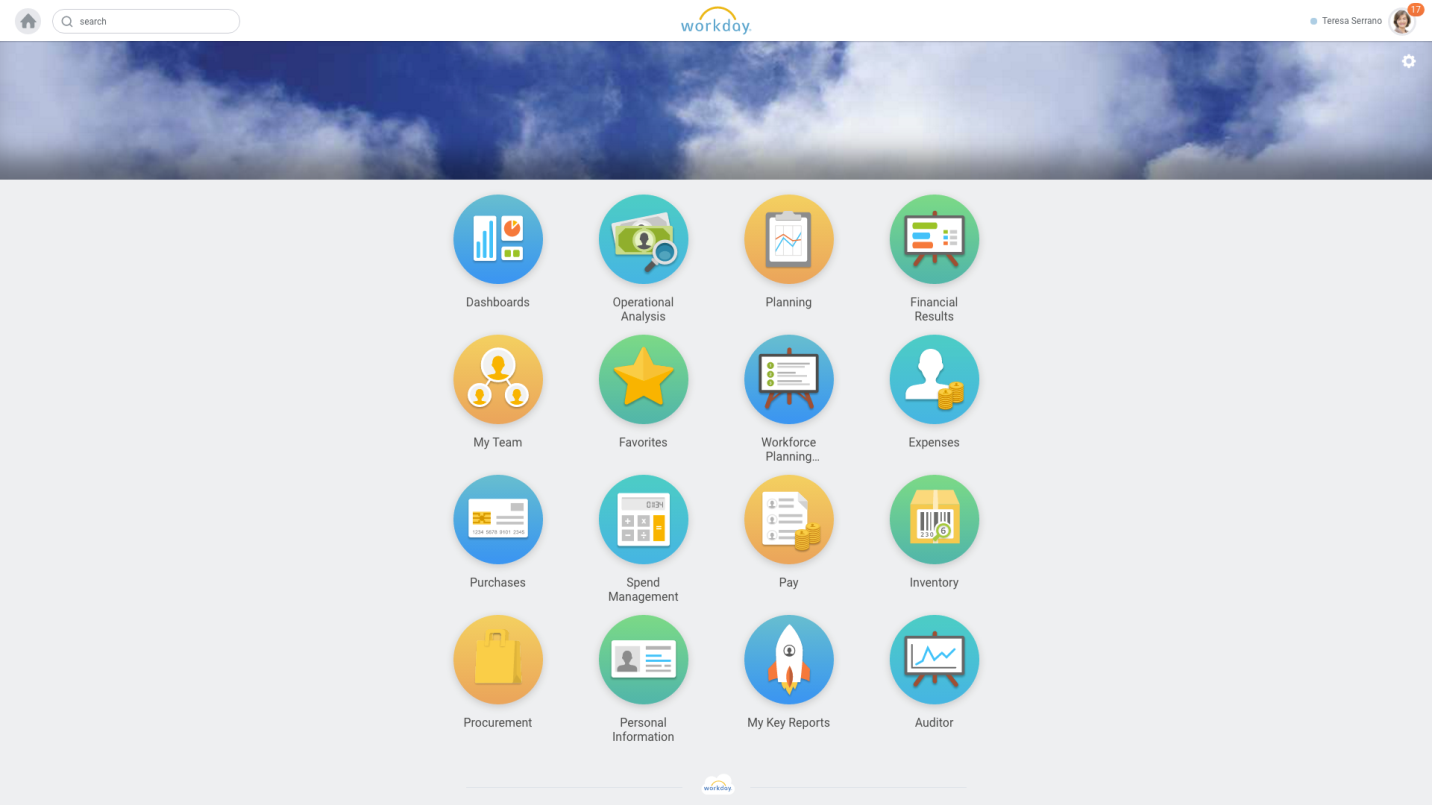 An example of an ideal homepage in Workday.
In Summary
Establishing strong first impressions begins during the architect stage. With Workday, configuration is easy and allows customers to think through and prototype their design decisions. Applying the principle of least privilege to design decisions provides only the necessary information an employee needs, and this in turn enables a great Workday employee experience.