Given the importance and growing symbiotic relationship between manufacturers and wholesalers, it's increasingly essential to streamline contracting and pricing communications. Failure to rationalize these communications will continue to result in significant operational inefficiencies.
Overall pharmaceutical revenue through Wholesalers (including Specialty Distributors), has and continues to increase. Between 2013 and 2016, there was a 45 percent increase in revenue through these channels — which includes both traditional and specialty drugs, according to 2018 research by McKesson.
This post provides an overview of the communication types, general guidance and best practices when implementing or upgrading. Look for subsequent blogs where we will dive deeper into each communication type.
Bringing communications into focus
From communicating Wholesale Acquisition Cost (WAC) to end customer contract eligibility and price changes to chargeback and/or trace sales processing, there are a number of communications related to contract operations processes.
Below is a list of the different communication types: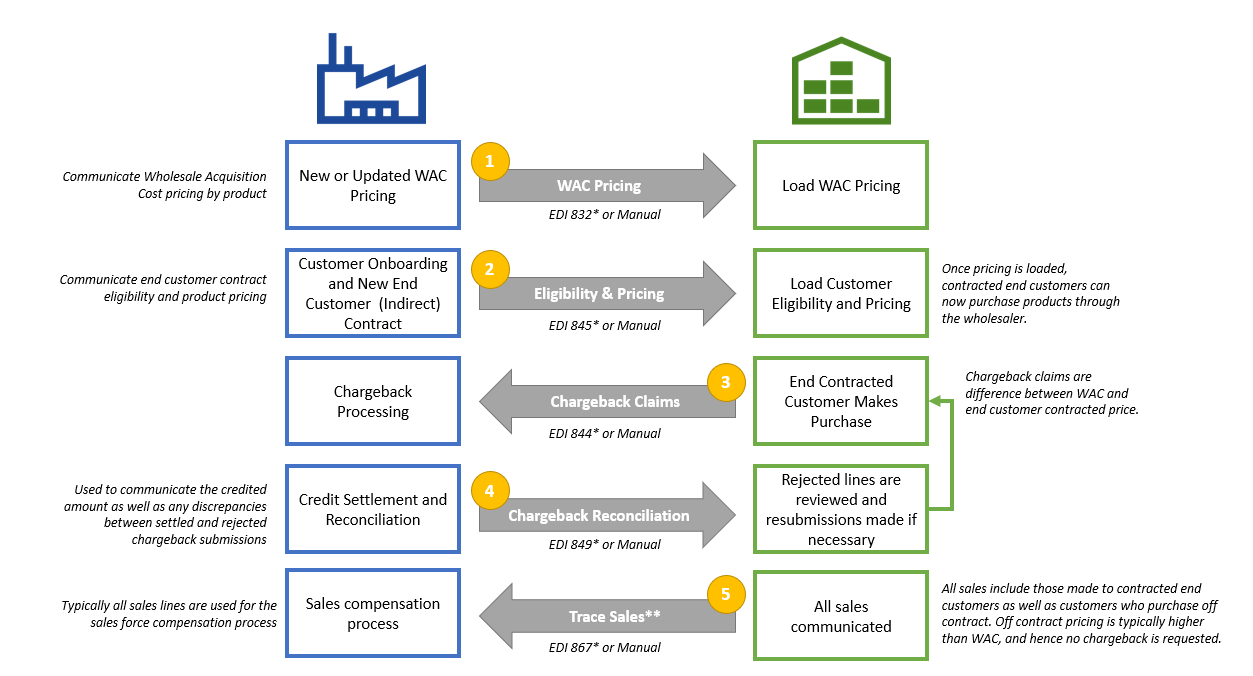 *Electronic Data Interchange (EDI) is the computer-to-computer exchange of business documents. It is considered the standard electronic format between business partners (e.g., Manufacturer and Wholesaler).
**Important to note that some manufacturers and wholesalers leverage trace sales transactions for chargeback processing, in addition to sales compensation.
Typical challenges
Like any process, these communications are not immune to challenges. Some of the challenges are mitigated as noted below. This is not an exhaustive list, but provides some examples:
Inconsistent Units of Measure (UoM) used across products and/or distributors. Depending on the product type, there are layers of UoM used – some of which may not be intuitive or clear. For example, is each one equivalent to a vial, tablet, bottle, or case? Is every distributor consistent in how they interpret and relay UoM information?
Inconsistent use and maintenance of customer identifiers. With multiple customer identifiers available (Drug Enforcement Agency, Health Industry Number, 340B Drug Pricing, Group Purchasing Organization (GPO) and used by distributors, how can maintenance or communication be streamlined?
Processes not modified to align to industry practices. Strategic business practices excluded, there are many examples where the organization has maintained a legacy business process, without a clear understanding of it continued effect. In these cases, does the need truly outweigh its effect?
Confusion around the handling of errors. For example, if a price notification is not sent or is picked up by the distributor, how should it be handled? And, who should follow-up?
Guiding principles
While challenges exist with these communications, there are certainly ways to move towards cleaner automation. As with any repetitive, high volume process, the goal is a fully automated process with clear error handling. In order to achieve a streamlined process across pricing communications, the following four recommendations are used as guiding principles:
Work with Wholesalers to align on the data standards. Examples of this can include aligning on customer identifiers and units of measure. Align to industry standard communications, such as EDI; the gold standard. As an alternate, Comma Separate Values (CSV) are matched to EDI formats.
As with any highly efficient process, communication is 100 percent electronic. Ideally, any process which cannot be automated is redesigned to accommodate automation.
No process is perfect; even those which are automated. Create a clear process to discuss errors and identify them when they occur, then create standard protocols for addressing errors proactively.
All parties should align on contract negotiation deadlines to give enough time to accurately load prices or process information communicated.
Best practice considerations
Whether your organization is 100 percent manual or uses electronic data interchange (EDI), or a mix of the two, there are always opportunities to improve efficiency. When undertaking a project to implement a new EDI or change an existing one due to a related upgrade, consider the following best practices:
Gain alignment between IT and business units, identify stakeholders and leads. Keep all groups involved and engaged throughout the implementation.
Identify all Wholesalers interested in onboarding (or those who are already onboarded). These will be the Wholesalers/Distributors in scope for the project.
Reach out to all Wholesalers in scope for the project to communicate project timelines, with an emphasis on the time needed for testing, and create a communication plan to keep them involved and on track throughout the project.
Work with Wholesalers/Distributors to align to industry formats, best practices and any specific standards required.
Create business scenarios for testing with Wholesalers, leveraging realistic data
Open line of communication
In summary, there are many communications between Manufacturers and Wholesalers, which include critical and high volumes of data. Communications rely on the accuracy of previous information, which creates the potential for cascading issues if those communications are not setup effectively.
As the revenue that flows through Wholesale channels continue to increase, the importance of streamlined communications becomes even more important. Manufacturers should take steps to analyze their current communication processes to ensure they are operating as effectively as possible.
References
McKesson. (2018). 10 Pharmaceutical Distribution Trends to Know. Retrieved from McKesson: https://www.mckesson.com/blog/10-pharmaceutical-distribution-trends-to-know/