Co-authors: Norita Wilson and Becky Jones
---
In Gartner's March 2018 "Market Guide for Healthcare Payer Care Management Workflow Applications," analyst Jeff Cribs says care management workflow applications form the operational backbone of payer population health management programs. Healthcare payer CIOs can use this Market Guide to understand the market dynamics, purchasing trends and vendors in this solution space.
The market for care management workflow applications is robust across payer segments and regions, thereby extending the elevated RFP activity that first began late in 2015.
Care management applications are built to manage extensive clinical content and meet complex regulatory requirements. As a result, the application footprints seem to constantly expand and become ever more resource-intensive for CIOs to support.
Business, clinical and IT leaders are frustrated with incumbent care management vendors for various reasons, but mostly because of the difficulty in adapting solutions to changing requirements and experimenting with innovative medical management practices. This has created space for newcomers to win business, and "bolt on" applications that promise to deliver innovative capabilities more quickly.
In recent RFPs, there has been growing emphasis on integration of medication therapy management; quality measurement; risk score optimization; complaints, appeals and grievances (CAGs); and integration with member service to support the "health concierge" model.
Recommendations
Gartner says healthcare payer CIOs seeking to leverage IT for more effective member engagement:
Concentrate care management RFP efforts on the subset of functionality where there is differentiation among vendors. This includes agility in deploying analytic insights, prescriptive care management resource prioritization, mobile- and tablet-based access for care managers, ease of application integration, multichannel communications, and digital member engagement.
Do not favor vendors with which you have an existing relationship for an adjacent enterprise solution (like claims processing or CRM) when searching for a comprehensive enterprise care management solution. There is not yet any evidence of an inherent advantage to consolidating vendors across these spaces.
The Population Health Management (PHM) market
HighPoint Solutions defines PHM in the following way: PHM is the aggregation of patient data across multiple health information technology resources, the analysis of that data into a single, actionable patient record, and the actions through which care providers can improve both clinical and financial outcomes.
Market insight
From HighPoint Solutions' perspective, there's a growing number of government-sponsored health plans that require flexible and scalable PHM solutions.
For the remainder of 2018 and beyond, HighPoint Solutions expects:
Health plans to look for effective solutions and partnerships with vendors.
The vendor market will be highly transformational through 2019.
Unprecedented expansion of functionality and the need for transformational care management systems.
Integration and execution (g., shift from Managed Care Organization (MCO)/member transactions to a focus on population health and the patient experience).
Health plans will determine their strategic direction before evaluating the care management workflow application to ensure it meets their business and clinical objectives.
Health plans and MCOs are providing care management services for government-sponsored health plans (Medicare and Medicaid).
Care management workflow applications
When evaluating care management workflow applications, HighPoint recommends health plans consider the following attributes of each application: basic care management workflow, next generation care management workflow, leading-edge care management workflow, and transformational care management workflow.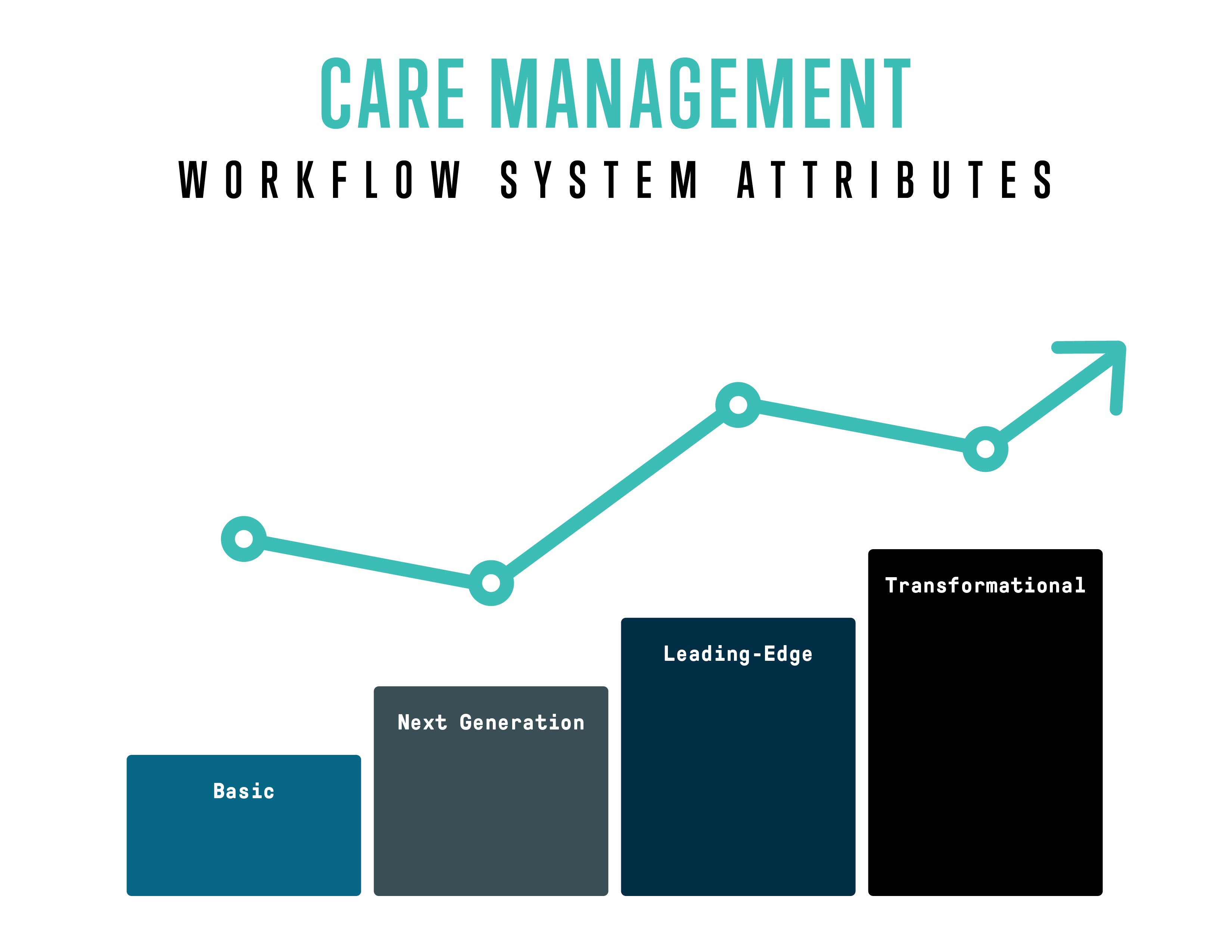 In our next blog, we will explore how health plans should evaluate care management workflow application vendors Key Performance Indicators, and the vendor selection process. We explain how we build a bridge between the system and the end-user so they have what they need to effectively run their business.
---
Co-authors: Norita Wilson is an associate director and Becky Jones is a senior manager with HighPoint Solutions Population Health Management practice.